North American Fulfilment Started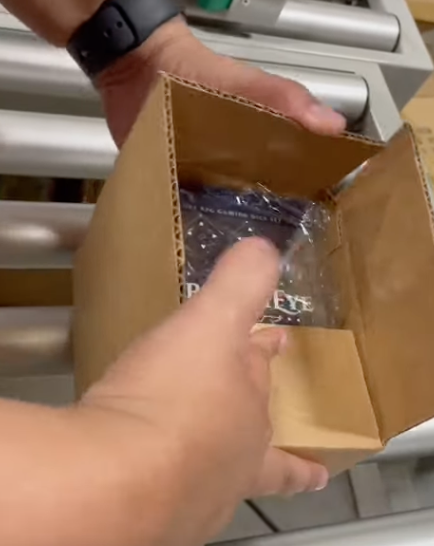 Hi Folks, great news, the North American fulfilment of the Dragon Eye Dice has begun. As some of you may have seen, the first batch of you have had their addresses locked and your parcels are on their way.
The fulfilment will be spread over three tranches, with the second and third being made up of a mix of current stock and replacements being manufactured in China. This covers pledges that include sets we do not have in Portland. Timings for the second and third tranches being sent out depends on how quickly the new replacements are ready at the factory. It is then our plan, to not only send out the rest of the world replacements from Asia, but also some North American backers where it is quicker to do so. If you haven't had an email from Backer Kit, to the address you used to sign up for the campaign, do not worry as this means you are either in tranches two or three, or your email has gone into junk or has been filtered.
As we mentioned in previous updates, just under 40% of the overall delivery to Seattle was then rejected by our independent QC inspectors. This means that not all North American backers are able to be fulfilled in this first tranche or from our stock in the US. Rather than make replacements and then ship them over to the US, we will send these by airfreight directly to backers from Asia. The reason we cannot be specific yet as to who will get what and when, is we don't know in what order the dice will be made in (i.e. what colour and cut will be ready first).
What we do know is that the factory has started making replacements, everyone who is waiting for their dice will be getting theirs, whether it be your first pledge or a replacement. We have seen some phenomenal samples of other variations of the dice and are certain the factory have finally got it right.
Now that fulfilment to North America has begun, we are excited to finally be able to release other projects that have been on hold during the production of the Dragon Eye Dice. Many of you have already signed up for the Dice Collectors Club and we will be releasing our first limited edition shortly. These are dice that were made alongside the final batch of Dragon Eye Dice (before we knew about the faulty dice) and so are already completed. They are in our warehouse and ready for dispatch.
We will also be running a phenomenal sale of our best-selling Level Up, prior to launching a new campaign early next year. So if you are looking for a great value Level Up before the holidays, we will be setting the new price live this weekend. For anyone waiting for the new Level Up-Evolved, that will be released early next year, all the improvements will be cross compatible with the original design.
If you have any issues, questions or concerns regarding your dice, please do get in touch at help@spidermindgames.com

If you want to find your tracking number go into your Backer Kit and look for the tab called 'shipping', it will take a couple of days as the warehouse are busy packing right now
and the Spidermind Games Team